Anda Seat Spirit King Series Gaming Chair Review

Introduction
Anda Seat is a name that you may or may not be familiar with in the gaming chair industry. They have actually been around since 2007, and began their life by producing race car seats for international companies such as BMW, Mercedes Benz and so on. In 2012, they built their first gaming chair as they saw the industry beginning to grow; and in 2016, Anda Seat was born in their home town of Toronto, Canada. As of today, they have over 20 designers working for them and countless intellectual property rights that guarantee only the best when purchasing from Anda Seat.
Let's talk about the chair in question, then. They kindly sent over their Spirit King series, although they did originally offer a different chair to begin with. Due to my stature, they decided that the King was the best bet. I can't fault them for their decision, and I guess I can now officially sit on my throne! In all seriousness, they offer some very high quality components and it doesn't necessarily reflect in the price. It is still competitive, and still offers good value for money. I will cover this more in greater detail in the relevant sections later on.
The chair offers a luxurious PVC leather exterior with comfortable foam that you can rest your buttocks on. The continued effort that they put into their chairs definitely shows, and the quality of the stitching is superb. They are always trying to come in a little cheaper than the competition, even for those for whom they manufacturer the seats for.
The specs list on Anda Seat's website is pretty extensive, so rather than filling the entire page with information, you can check the link below for all of the info that you may need.
http://andaseat.com/product_show.php?id=32
A few worthy mentions are the fact that it weighs over 70lbs in the box, so you may require two people to move it around. Secondly, it supports a maximum weight of around 440 lbs, though they strongly recommend keeping it to 397 lbs or below. Let's get on with the chair itself… and then find out what it is like to sit in a chair made for the motorsport world.
Packaging a chair is somewhat difficult, and in all honesty, it isn't the most flattering item in the industry that you can package. So what we have from Anda Seat is a large brown box with their logo and some info on the sides, nothing more. Internally, you'll find a large amount of foam packaging and various plastic covers to the components within to protect them from moisture and damage in transport. Oddly enough, the packaging inside the box weighs a lot more than you might think, and I am fairly certain that it makes up for around 20 lbs of the overall weight.
The chair at a first glance looks awesome! The stitching is superb and it really helps the product to stand out from the crowd. You can of course get the chair in different colors, but this was the one that I opted for when Anda Seat contacted us. It was the most appealing to me, but that is obviously not going to be the case for everyone as we all have our own styles and tastes.
This is what a fully assembled Anda Seat King Series will look like for you if you choose to add all of the cushions. Let's get a little closer and show you the real beauty of this chair…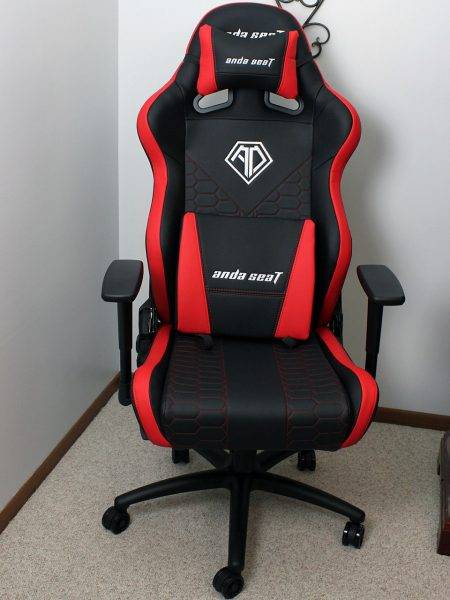 Putting together an Anda Seat gaming chair is straightforward and can be done without any manual, though the inclusion of it is obviously a necessity for standard business practices. I did notice that it would be significantly easier to put together if you had a two people for the extra hands, or bothered to RTFM. I will openly admit that I didn't read it due to the ease of installation. It was less complicated than my other gaming chair (OPSEAT) which lead me to believe that I didn't need the manual. All in all, there are only ten bolts, four of which can only go into the one size, and the other two into the other. The final four are used to secure the back of the chair to the main frame. Installation takes all of 15 to 20 minutes, and most of the time is spent unpacking all of the various components.
Don't worry, I'm still giving you pictures! First up, here's how you install the wheel base to the seat itself. All it takes is four bolts, and it's done. It really is that simple to get the seat pretty much 85% of the way done in a matter of a minutes. The bolts that secure the armrests into place are already pre-installed for you as it comes shipped like that. It's only four of them, though, and the slots in the bracket allow the arm rests to slide in/out a little to give you a bit more comfort if you desire.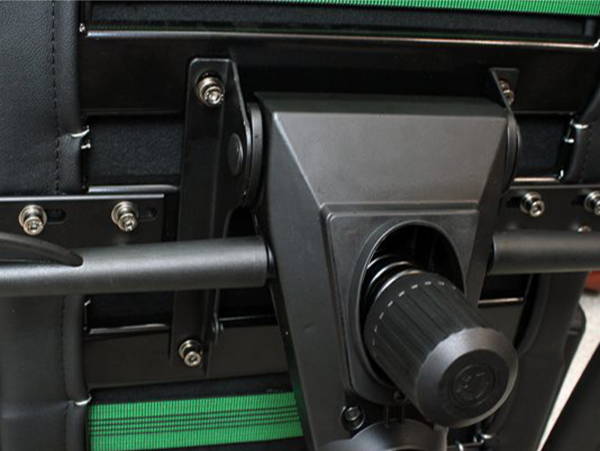 After that is done, you can proceed to install the rest of the components such as the back of the chair, which installs with two screws on each side of the frame. Don't try to over tighten them, as you may strip the threads. You should be able to get a good sense for how tight they are, though. Once both sides are secured, you can cover the screws with a plastic cover with a further two screws, one on each side. Of course, this is only if you wish to do so. You can also leave the covers off for a more "racer" appeal if you wish. I chose to install them as I am not that hardcore, though I would wager that there are a few of you out there that simply prefer the look of bare metal.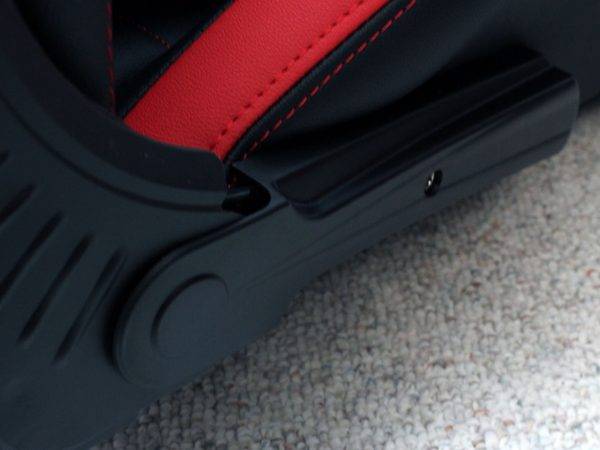 On the right-hand-side of the chair, there's a slightly different cover, and for good reason; this side is where your tilt mechanism is controlled. It's a pull mechanism that unleashes all backrest comfort when controlled correctly. I for one cannot stand a chair that is at 90° to my butt. It drives me up the wall and it is honestly so uncomfortable that I would rather stand. A good 15-20° cruiser position is much more relaxing. I reckon you could rig an E-brake to the handle if you wanted…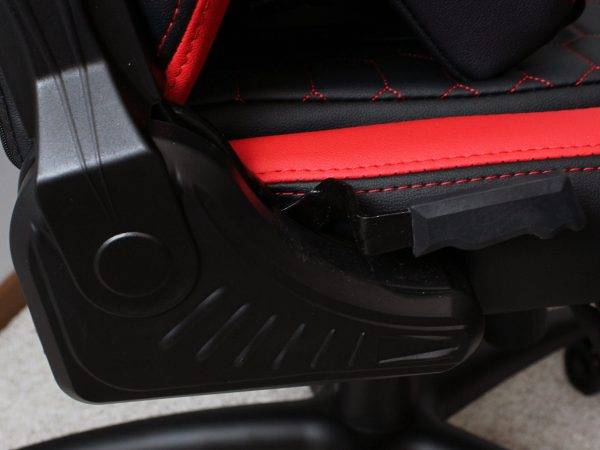 Installing the wheels only requires a little force. They simply push into their designated holes in the base, and then you're done with them. They don't require a Hulk-strength-mode to install, which can sometimes be the case with other vendors. Well, would you look at that… it probably took you almost as long to read this page and oo-ahhh at the images as it would have taken you to put the chair together. Okay, maybe not *quite* that speedy… but it really doesn't take long whatsoever.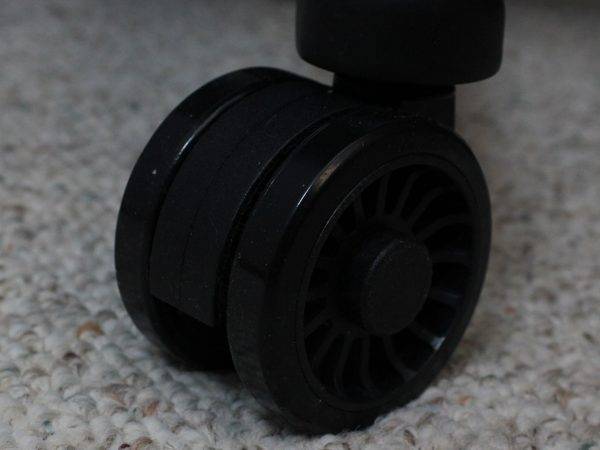 Finally, we have the armrests. They have a few different movement patterns, which include up and down, and a swivel option from left to right. They also move slightly backwards or forwards if you find them too uncomfortable on your elbows. All of the movement is controlled with relevant buttons on the sides of armrest in question. For example, the one you can see below is for controlling the height of the arm.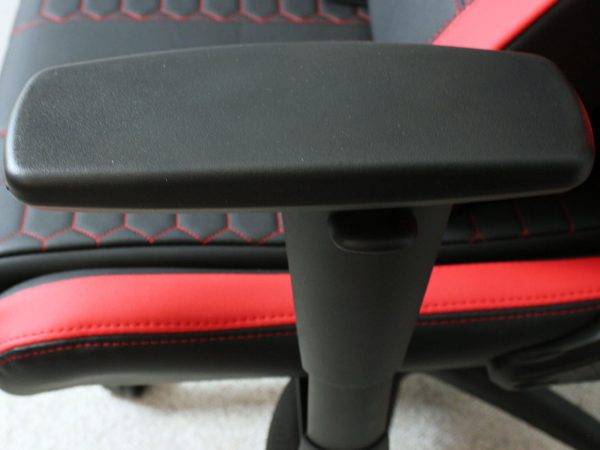 How does it feel to sit in a proper gaming chair, manufactured by Anda Seat, the producers of race seats for the likes of BMW and Mercedes Benz?! Let's find out…
How It Feels & Conclusion

Anda Seat has definitely made me a fan of the brand, for multiple reasons that I will touch on in just a moment. Let me break down some of the qualities that I saw in their product, and then explain why they hit such a high note for me when I was taking a luxurious coast down Comfort Lane.
How does one rate a chair? On its comfiness? On its properties and features? Well, let's give it a try and see where we end up.
I'll start off with the wheels, which many of you might not think is an important factor. As for the reason why I am starting here, it is simple: they need to roll! Rolling wheels on a hardwood floor is easy, but it is a little more tricky when your bedroom or nerd cave is covered with carpet. I wish I had my own proper nerd cave… but that's a topic for another day and a discussion to be had with the wife in the future. Anyway… I noticed this when I first moved in, and struggled to move around on my previous office chair. Since getting a gaming chair with properly sized wheels, it is no longer an issue. Thankfully, Anda Seat has employed the same sort of wheel, and it rolls like no tomorrow on carpet. There is, of course, still some friction, but the large wheels really do help to overcome that issue. It couldn't get much better on carpet and I am very happy with the overall rolling capabilities on Anda Seat's wheels. I do hope that they use the same wheels on all of their chairs. I believe that they do, but don't quote me on that one just yet. One final thing to mention is that it is naturally going to be very difficult to roll a 280 lbs nerd on carpet; am I right?
As far as the levels of seating comfort are concerned, it was like plonking yourself into a cushion that was made specifically for you. As I mentioned before with the coloring, this is of course very subjective, but I found myself being able to sit down for hours without any sort of discomfort. That's precisely what every single manufacturer is aiming for with these types of chairs. Gaming sessions last ages, and the worst thing is to start enduring pain or discomfort whilst torturing the enemy team with your sniper, or banging in the goals on Rocket League. Whether or not you choose to use the additional cushions that Anda Seat provide with your chair is something that I can only recommend you try for yourself. It is comfortable for some, and not so much for others. Unfortunately, I fall into the latter category, and I found it a little uncomfortable. I definitely can see where it can be comfortable and even had a friend sit in it to confirm my suspicions, but it is just down to a personal preference. Perhaps it is just because of the way that I sit, or it is to do with the placement of it on my back. I really couldn't tell you. I am a fussy lad, sorry! Either way, you'll have to test that for yourself. The cushions do maintain the same level of quality as the main frame, and are soft enough to even take a nap with them when the going gets tough. Hopefully those energy drinks keep you from passing out, though. The stitching on the cushions is also of the highest quality, with only one or two missed stitches (spaced one hole apart) that I could see.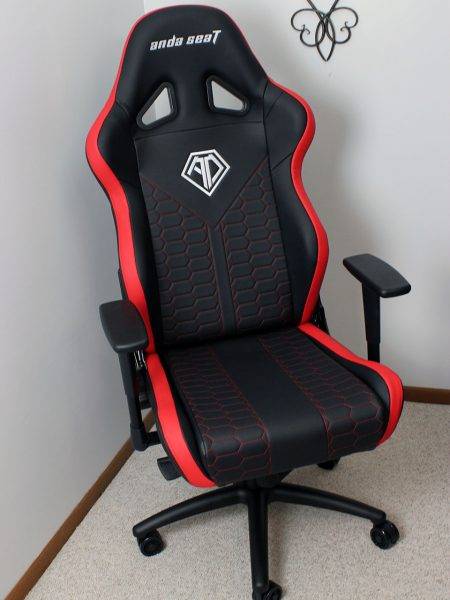 With regards to the cushioning, the foam held up well and was able to distribute my weight evenly and comfortably. I did not feel any strange discomforts in any of my body parts, even after prolonged gaming sessions. In fact, I typically didn't even notice that I had been sitting there for over five hours at a time. It's a bad thing, especially when your day dwindles away and you can't figure out how it became dark outside when it was mid-afternoon when you sat down. Whoops…! No wonder the Mrs. was a little upset that nothing had been done around the house. Ah well, all I do is win, win, and win!
Considering the King Series is aimed at slightly heavier set gamers, the build quality is fantastic. Whilst the general consensus is that gamers are overweight and eat nothing but Dorito's whilst slamming Baja Blasts concurrently, there is of course the complete opposite end of the spectrum where you actually have athletes playing games. Given my overall stature, Anda Seat's rep decided that the Spirit King Series was a good fit for my size. I will be honest with you, as always, and let you know that I weigh 280 lbs (~125 kilos) and come in at 6′ 3″. I am a broad chested fella, with a big frame. Anyway, the comfort that was brought to the table made me question my OPSEAT that I have been using for the past eight months or so. I did miss the bucket seat feel, as the sides are not as pronounced due to the fact that it is aimed at comfort rather than hugging your thighs; but after a few hours of gaming, I didn't even notice that they weren't there.
You have to remember that as you are paying $329 for a gaming chair, you would be silly not to expect high quality. I get the feeling that Anda Seat knows this, and has done the darnedest to ensure that you will not be disappointed with the product. If for whatever reason you're dissatisfied with your chair, you have a 30 day return window. It's not clear if you have to pay the return shipping, but given how customer-focused Anda Seat is… I'll leave that up to you to decide what you might think their policy is.
Okay, okay… I know that there's only so much I can blab on about in regards to a gaming chair. So, it's time to draw this review to its natural conclusion, and let you know whether or not you should spend your hard earned pennies on the Anda Seat King Series. Given the sheer amount of options that are currently on the market from just about every manufacturer that wants to try and push one of these out, it is almost definitely worth spending a little extra and grabbing yourself a chair from a reputable and reliable company. Anda Seat has won me over, and I am very happy to say that I absolutely recommend that you check them out for your next gaming chair. It's comfy, it's stylish, and it's very well put together too. Due to the overwhelmingly positive feelings that this chair brought to me, without me being able to find a negative besides the pricing in certain situations, I have to be honest and award it an Editor's Choice award. Couple all of the above with the fact that they also provide you with free shipping is just the cherry on top of that scrumptious cake. Thank you, Anda Seat, for sending over the King Series, and for letting me give you an honest person's judgement on it.