What are the features of a gaming chair?
Gaming chairs are designed to provide comfort, support and style for gamers who spend long hours sitting in front of their screens. Gaming chairs differ from regular office chairs in several ways, such as:
Ergonomic design: Gaming chairs are shaped to fit the natural curves of the spine and offer adjustable features such as height, tilt, recline, armrests and lumbar support. These features help gamers maintain a healthy posture and avoid strain and fatigue.
Quality materials: Gaming chairs are made of durable and breathable materials that can withstand wear and tear and provide comfort and ventilation. Some gaming chairs also feature memory foam, leather or fabric upholstery, and metal or plastic frames.
Aesthetic appeal: Gaming chairs come in various colors, styles and themes to suit different preferences and personalities. Some gaming chairs also feature logos, patterns or lighting effects to enhance the gaming atmosphere.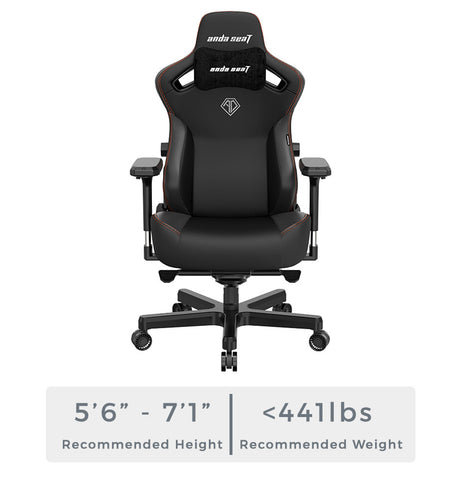 One example of a gaming chair is the AndaSeat Kaiser 3, which is available from AndaSeat from $449 for the large model with a Blaze Orange PVC Leather finish. The AndaSeat Kaiser 3 offers:
A high-density mould shaping foam that conforms to the body and provides support and comfort.
A 4D adjustable armrest that can be moved up and down, left and right, back and forth, and rotated inwards and outwards.
A multifunctional tilt mechanism that allows the chair to recline up to 160 degrees and lock in any position.
A steel framework that ensures stability and durability.
A class 4 hydraulic piston that supports up to 160 kg of weight.
A 5-star aluminum base that supports smooth movement and rotation.
A head pillow and a lumbar cushion that provide extra support for the neck and lower back.
The AndaSeat Kaiser 3 is one of the best gaming chairs in the market, according to IGN, which praised its comfort, quality and design. If you are looking for a gaming chair that can enhance your gaming experience, you might want to consider the AndaSeat Kaiser 3.