Anda Seat Dark Wizard Gaming Chair Review

Summary - 8/10

Anda Seat's Dark Wizard Chair will have you channeling powerful magicks in no time. Chair manufacturers usually skimp on the neck and lumbar cushions, but you won't find that here. The unique neck pillow design supports the entire upper back, shoulders, and neck.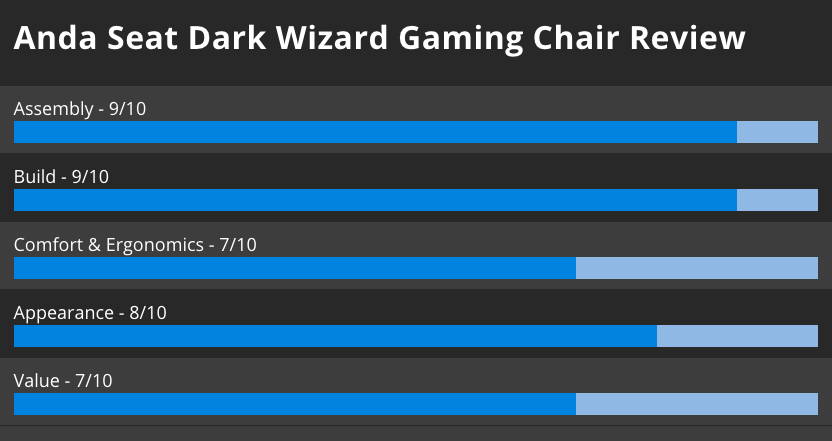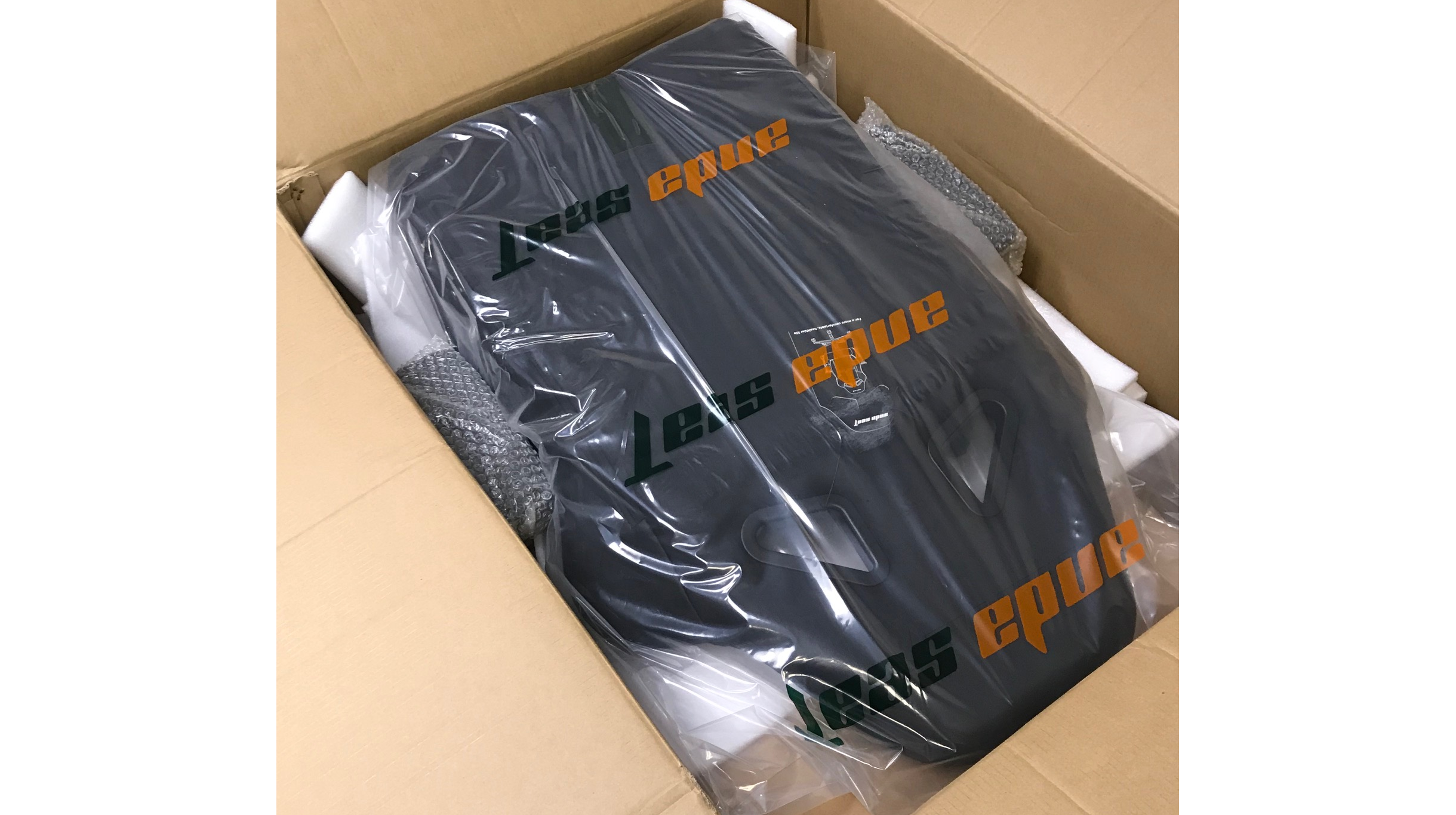 The Anda Seat Dark Wizard Gaming Chair has the most cushion of any chair we've reviewed on High Ground Gaming. The luxuriously padded neck rest extends down to support both the shoulders and upper back. If you like extra cushion on your seats, this is the one for you. Conversely, if you like such things as a firmer mattress and Spartan style furniture we suggest you look elsewhere. Anda Seat is the second most popular gaming chair brand in Asia, but is a bit new to the USA and Canadian markets. They are partnering with brands like AMD and are a major sponsor of the Canadian National Exhibition — Canada's largest annual fair and the 5th largest in North America.
Here's what you'll find In the box:
Backrest x1
Seat base with armrests x1
Chair mechanism x1
Five-star base x1
Hex allen keys x2
Caster wheel x5
Side cover x2
Piston cover x1
Gas lift piston x1
Screws x10
Memory Foam Lumbar cushion x1
Memory Foam Headrest cushion x1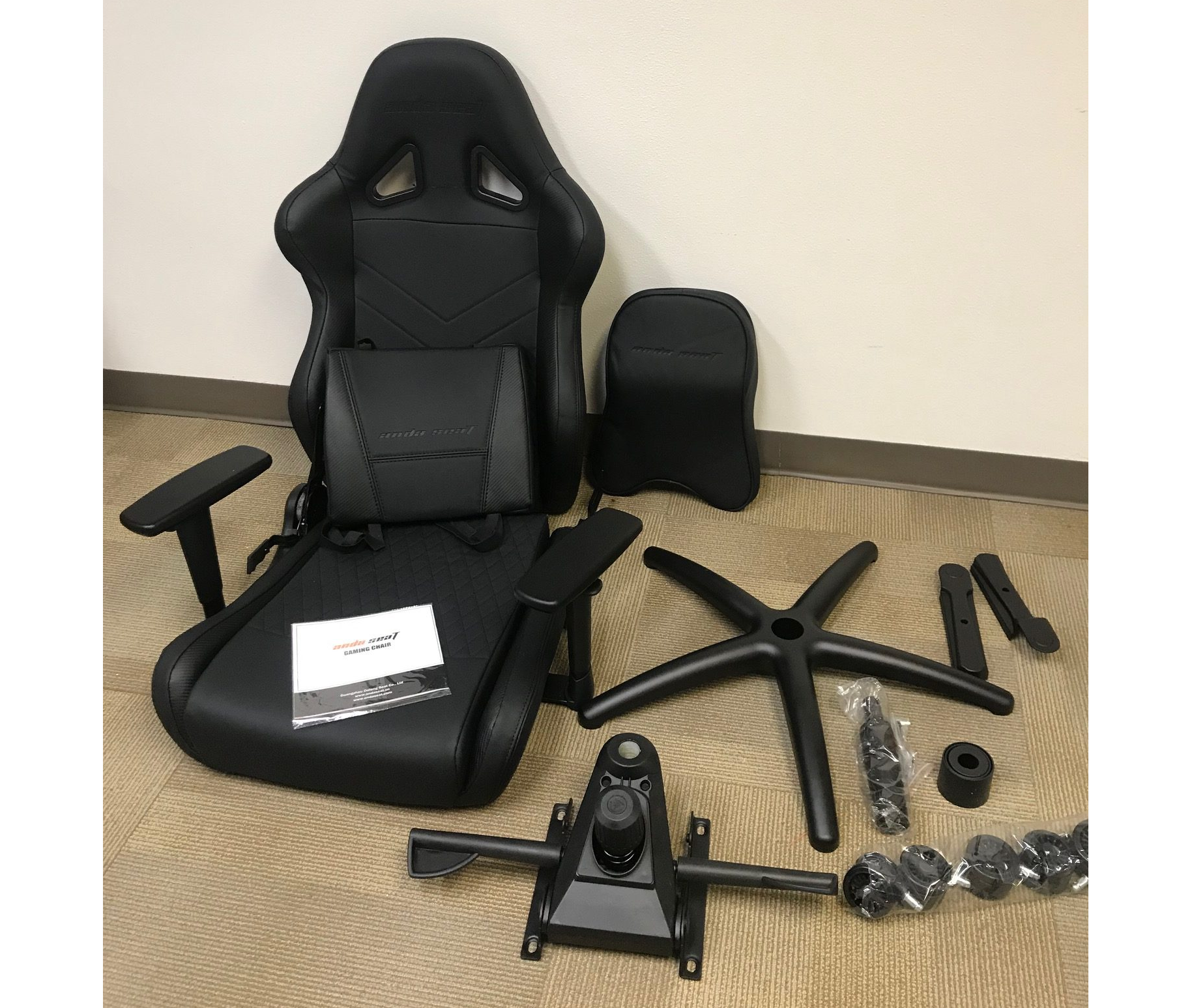 Assembly (9/10)
I didn't find the assembly of this chair difficult. The hardest part is getting the first screw on either side started which attaches the seat to the backrest. Once it's started, the hex allen key makes short work of things. The full color manual is way better than most black and white assembly pamphlets you typically find in cheap furniture. The Dark Wizard manual has both an installation guide and then an operation guide. Each step highlights the piece/parts that are being assembled in yellow, making it very clear what needs to be done before moving on to the next step.
Build (9/10)
I think one of the high points of buying a chair from Anda Seat is their attention to quality. Anda Seat is the direct manufacturer handling the assembly and promotion of all their chairs in-house. They've got their own intellectual property, original chair designs, and manufacturing technology so they control the product from start to finish. Some OEM brands get their chairs from random factories that don't necessarily have stringent quality requirements in mind. It seems like Anda Seat's process has manifested itself in the Dark Wizard chair. There wasn't a thread out of place and I couldn't find any major or minor manufacturing defects. One component of gaming chairs that always seems to have issues is the side panel that covers up the bolts that connect the seat to the back rest. Anda Seat's snapped and screwed on smoothly, flush with the side of the chair and concealing the screws well.
Comfort & Ergonomics (7/10)

This chair doesn't have nearly as many knobs and adjustable parts as say a Steelcase or Herman Miller chair. You get height adjustment, tilt tension, and adjustable armrests with the Dark Wizard. The Ergoceptor chair from Maxonomic and the Titan chair from SecretLab includes a lumbar adjustment knob that sadly this chair doesn't have. That being said, Anda Seat partially compensates for this with their cushions. The lower back cushion has four straps: two that run through the holes in the headrest and two that run through where the seat meets the backrest. These clip together and keep that lumbar cushion solidly in place (you know how annoying it can get to readjust a lumbar cushion every time you get up or micro adjust your posture) well no such problems here.

The massive neck rest is more of a neck rest and shoulder rest combo. It looks kind of funky, but supports the upper back well which is usually an area in gaming chairs I find lacking in support. The carbon fiber and PVC material is soft to the touch + the densely padded seat and cushions is like sitting on a throne of clouds. I did find the armrests lacking however. I wish I could adjust them higher because they feel a little low. Additionally, they are rigid and don't have any sort of padding which is a strange contrast to the rest of the chair's feel.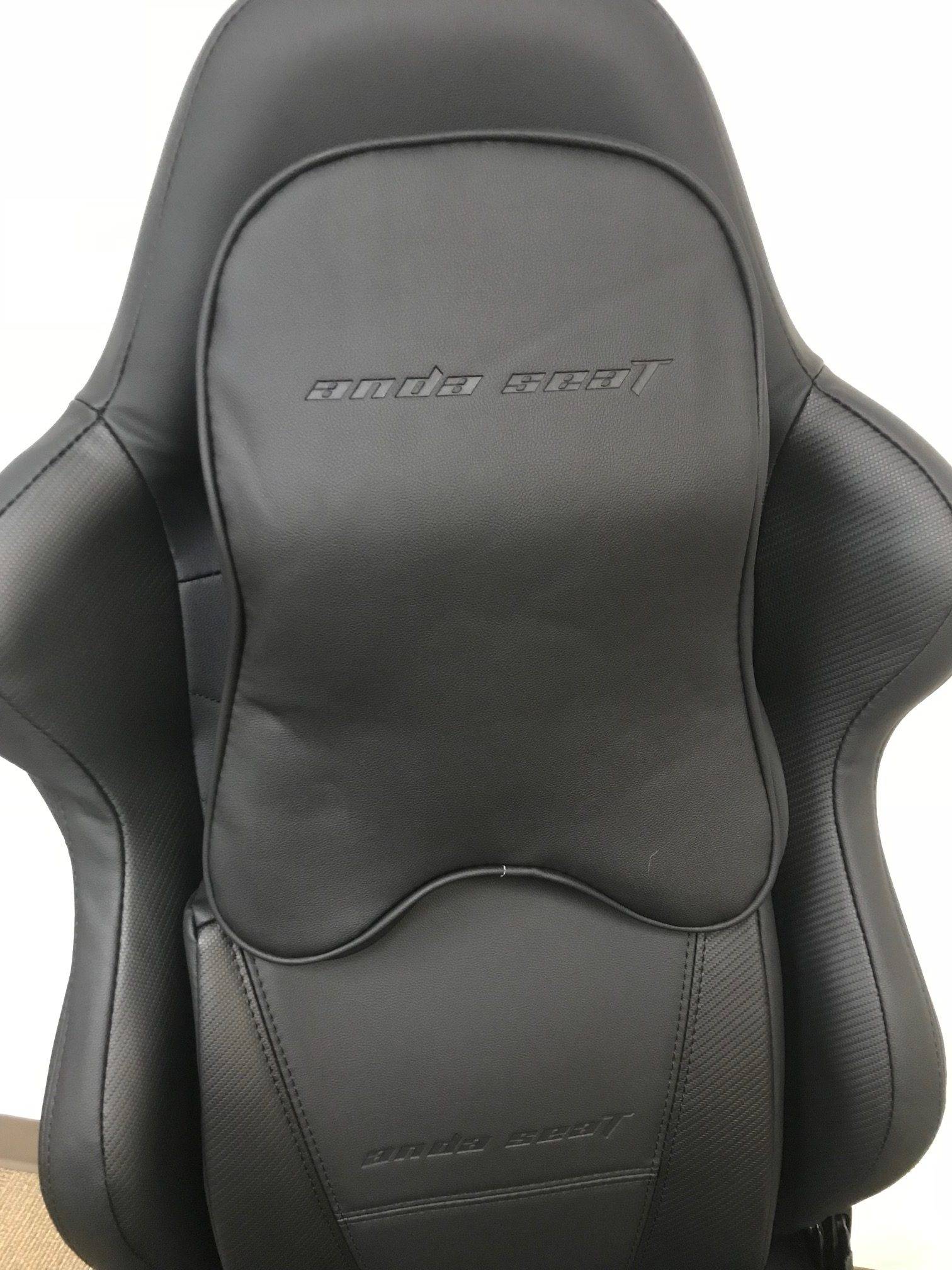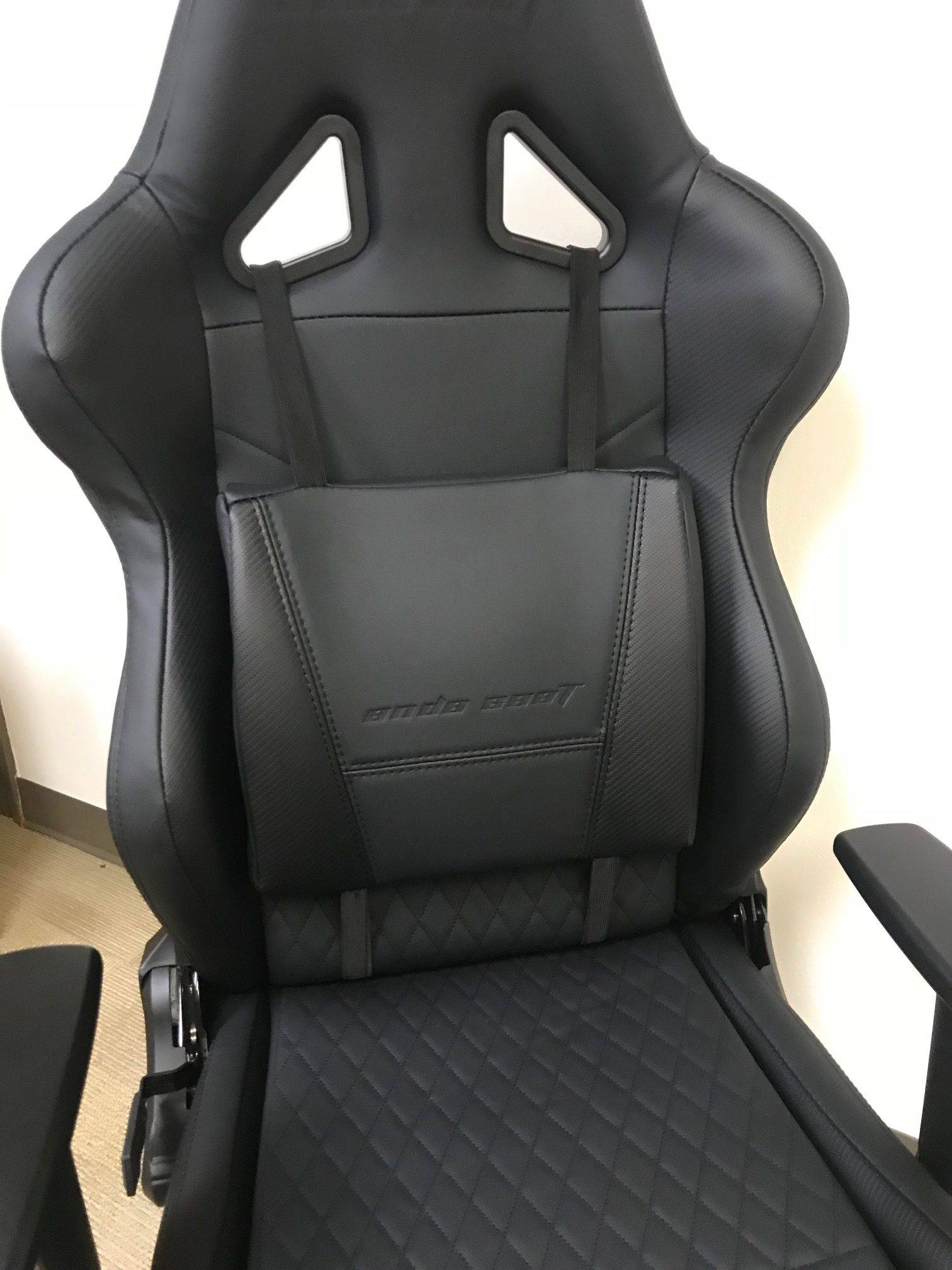 Appearance (8/10)
As much as I like the plush neck pillow, I do think it diminishes the aesthetic. The chair looks a little better without the two bulky cushions but the fact that everything is all black helps unify the package. I subjectively prefer simple one or two color designs — give me an all white, black, or space gray and then ensure the product shines in the utility department and I'm a happy camper. The Dark Wizard's black-on-black scheme and stitching designs on the seat and backrest are appealing to me.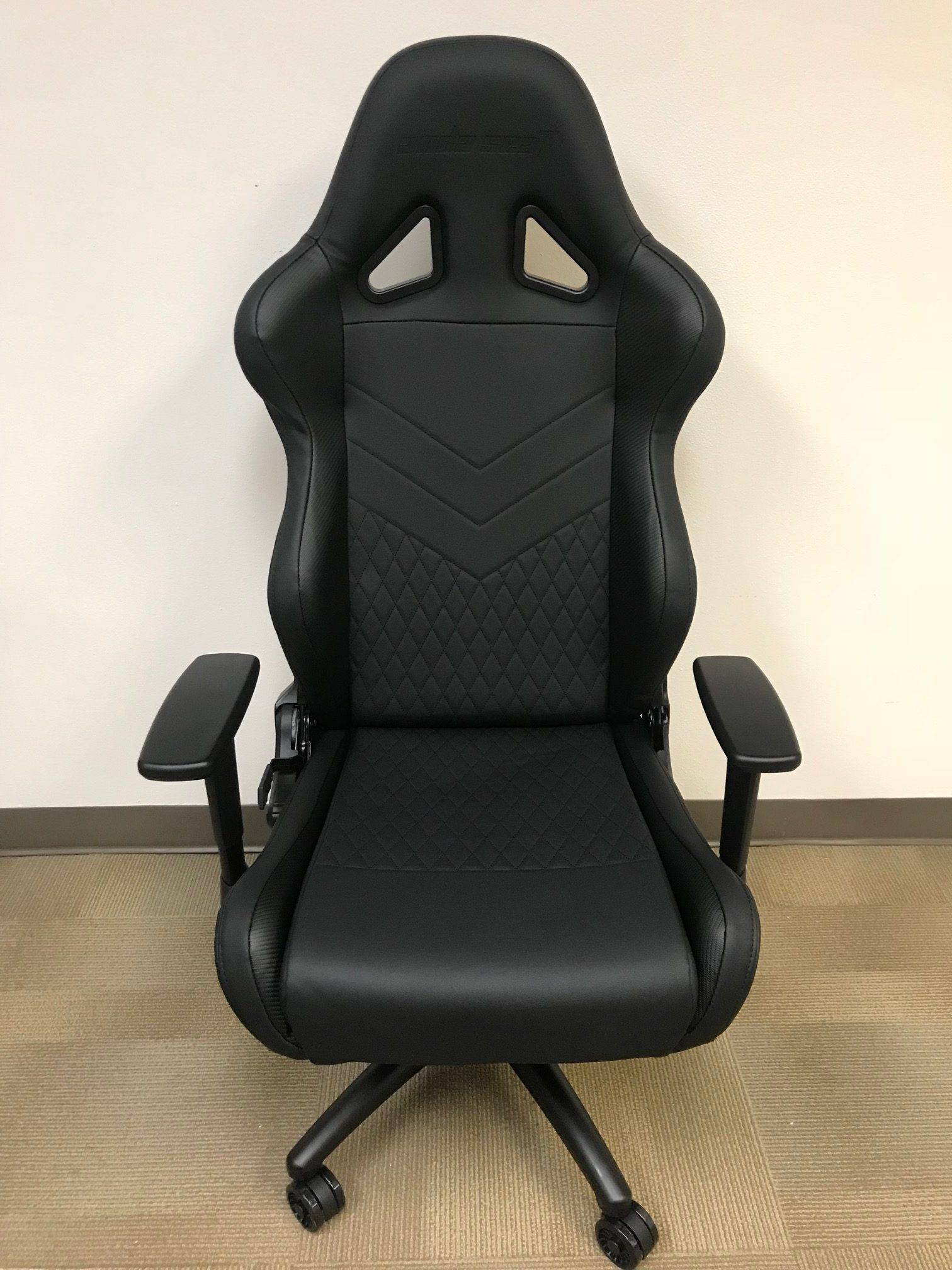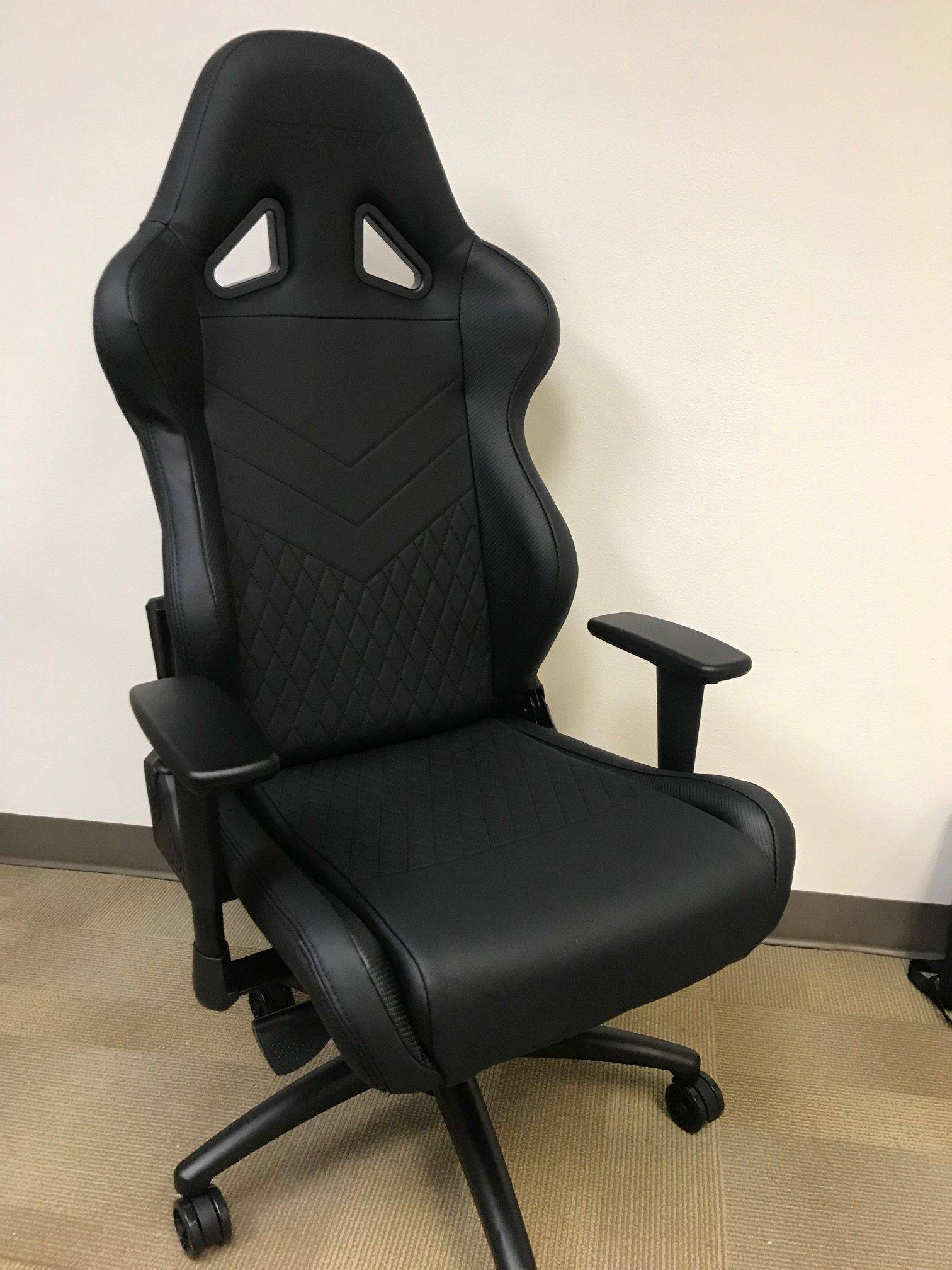 Zoom In: Specs
Here's how the Anda Seat Dark Wizard Series measures up.
Weight: 61 pounds
Maximum Chair Height: 54.33 inches
Minimum Chair Height: 51.77 inches
Weight Capacity: 440 pounds or less
Recommended Height: 5'6 to 6'8
Warranty: Lifetime Warranty on the Frame, 6 years on the parts
Metal Frame and Metal (Aluminum) Five Star Base
Reclining Backrest Up to 160 degrees
3D Adjustable Armrests
Adjustable Tilt Angle: 3 to 14 degrees w/ tilt angle lock
A pillowly chair that has two generously padded cushions (lumbar & neck) providing decadent comfort. If you like your mattresses soft and your La-Z-Boy with extra padding, this is the chair for you.