Best Gaming Chair Recommendations for a decent price.
You might want to check out the AndaSeat Kaiser 3 Series Premium Gaming Chair. This chair is designed to give you the best support and comfort for your gaming sessions. Here are some of the reasons why this chair is a great option for your gaming needs.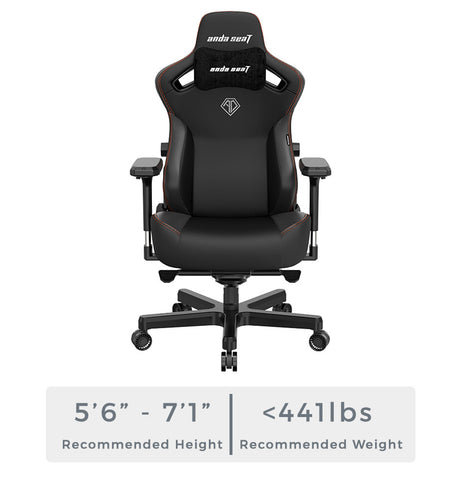 The AndaSeat Kaiser 3 has a high-density foam that adapts to your body shape and distributes your weight evenly. This helps you avoid pressure points and improve blood flow, so you can sit for longer without feeling sore or tired.
The chair also has a 4D adjustable armrest that can be moved in any direction and angle. This gives you more freedom and comfort when using your mouse and keyboard, or resting your arms between sessions.
The chair has a multifunctional tilt mechanism that lets you recline up to 160 degrees, lock the angle in any position, or rock back and forth with adjustable tension. You can also adjust the height of the seat and the lumbar support to suit your posture and preference.
The chair is made of durable materials that can last for a long time. The frame is made of steel, the base is made of aluminum alloy, and the casters are made of PU rubber. The upholstery is made of PVC leather that is resistant to stains, scratches, and water. The stitching is also reinforced for extra durability.
The chair comes in different colors and styles to match your personality and gaming environment. You can choose from black, red, blue, grey linen fabric, or black white pink. The chair also has an ergonomic headrest pillow that can be removed if you don't need it.
The AndaSeat Kaiser 3 Series Premium Gaming Chair is a high-quality gaming chair that offers comfort, support, adjustability, and durability at a reasonable price. It is suitable for gamers of different heights and weights, as well as different gaming genres and platforms. If you are looking for a gaming chair that can improve your gaming experience and performance, you might want to try this chair.