Anda Seat Kaiser 3 Premium Gaming Style Office Chair
If you are looking for a premium gaming chair that offers comfort, durability and style, you might want to check out the AndaSeat Kaiser 3 Series. This chair is designed to provide ergonomic support, adjustable features and magnetic accessories for the ultimate gaming experience.
The AndaSeat Kaiser 3 Series comes in two sizes: L and XL, and nine color options: Elegant Black, Classic Maroon, Cloudy White, Creamy Pink, Robin Egg Blue, Blaze Orange, Bentley Brown, Carbon Black and Ash Gray. You can also choose between two material options: DuraXtra™ artificial leather or EverSoft™ linen fabric. Both materials are scratch and stain resistant, and offer a soft and smooth sitting experience.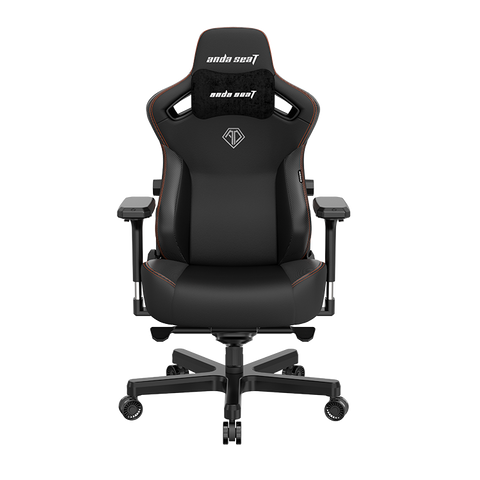 One of the highlights of the AndaSeat Kaiser 3 Series is the ingenious internal lumbar support system that adapts to your spine. You can adjust the height and depth of the lumbar support with knobs on both sides of the chair. This way, you can find the optimal position for your back and posture.
Another feature that sets this chair apart is the magnetic memory foam head pillow that attaches to the seat with magnets. You can easily move it up and down to suit your preference. The head pillow also has a cooling pad that ensures maximum comfort.
The armrests of the AndaSeat Kaiser 3 Series are also magnetic and can be swapped with different colors or tabletops. The tabletops are an upcoming accessory that will allow you to use your laptop or keyboard on your lap. The armrests are also 4D adjustable, meaning you can move them up and down, left and right, forward and backward, and rotate them inward and outward.
The backrest of the AndaSeat Kaiser 3 Series can recline from 90° to 165°, and the seat base can rock up to 15°. You can lock the angle of the backrest and seat base with a multi-function mechanism. The seat base is spacious and has high elastic foam that provides cushioning and resilience.
The AndaSeat Kaiser 3 Series is built with a heavy-duty aluminum wheel base that supports up to 180 kg (XL size) or 120 kg (L size). The casters are PU coated and glide smoothly on any surface. The gas piston is class-4 certified and allows for a 2.7-inch height adjustment range.
The AndaSeat Kaiser 3 Series is easy to assemble thanks to the MagClap system that uses magnets to connect the parts. You can complete the whole assembly process by yourself in minutes.
The AndaSeat Kaiser 3 Series is a gaming chair that combines quality, functionality and aesthetics. It is suitable for gamers who want to enjoy long hours of gaming in comfort and style. You can order it from Anda Seat Kaiser 3 Premium Gaming Style Office Chair